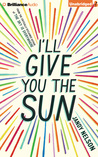 I'll Give You the Sun
by
Jandy Nelson
My rating:
5 of 5 stars
I listened to this audiobook as part of an April book discussion with a Goodreads group I joined, YG,MG, Seriously. Since I LOVED this book and did not want to read it again, I choose to listen to this book narrated by Julia Whelan and Jesse Bernstein and this venue DID NOT disappoint!!! I recommend YA and adults should read and then listen to this book. There is so much to totally love about this book- family lies, secrets, jealousies but also deep abiding love, compassion, and artistic brilliance.
You can read my book review here:
https://www.goodreads.com/review/show...
Highly recommended- join our April discussion too!
View all my reviews